Upcoming Tres Dias Weekends

Men's #56 • April 6-9, 2017 • Bill Pafford, Rector
Women's #56 • April 20-23, 2017 • Doy Wilds, Rector
Men's #57 • October 5-8, 2017 • Tommy Pafford, Rector
Women's #57 • October 19-22, 2017 • Rossie Tullis, Rector

---
March 2017 NFTD Newsletter
---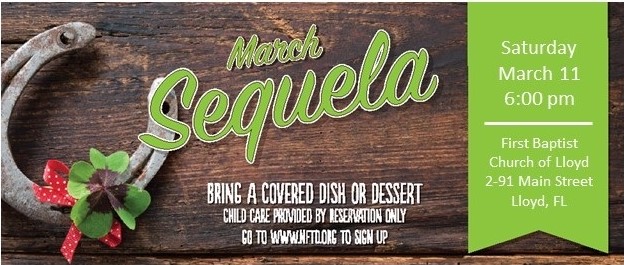 ---
Child Care Reservations for the Saturday Evening Sequelas
Child care will be provided at the Saturday evening sequelas by reservation only. If you would like to take advantage of this service, please click here to fill out the reservation form. A different reservation form will need to be submitted for each sequela that you wish to have your child participate in. Reservations must be made by 5pm on the Friday before each Sequela. Please include children names if possible.
---
Announcements & Reminders

• The NFTD Secretariat typically meets the fourth Monday evening of the month at 6 p.m. at Freedom Church in Tallahassee, Fl. The next Secretariat meeting will be March 27, 2017.
• The Men's Victory Breakfast will be April 22, 2017 at 8:30 A.M. at Grits in Cairo, GA. The cost is $7 plus a generous tip.
---